Last Week we sent out St. Mary's news via email. If you didn't receive this and would like to, please email Emma at the office stmaryoffice@btconnect.com
From the Vicar,
Dear St. Mary's,
As we enter the second week of the 'lockdown' I wonder if we have got used to it now, and is there even a sense of novelty?  The real problem is not now, but in a few weeks or few months time, when we are climbing the wall: when government help in lieu of wages has not yet arrived; when shops really are struggling, and when people no longer phone as much, or are as kind as they have been.  The euphoria of the initial stages has resulted in a mass of kindness and a sense of our oneness as a community, let alone one world family. But will it last?
It has been said that the Christian life is not a sprint but a marathon.  We are disciples of Jesus, not just for the novelty, but for the long haul.  In Jesus' parable of the sower and the seed, some seed 'sprung up quickly' (Matt 13:6) but because its roots had not gone deep, when things got tough, it all came to nothing.
This is certainly a time of testing.  I've often heard people say regarding the ongoing support for their faith, 'if it wasn't for my church, I don't know where I'd be.'  Well, you haven't got your church now – or at least the building.  But you still have the church in terms of the family of God.  Perhaps not quite the same, but the best we can do.
This will be a test to see how real our faith is on the 'inside', and not dependent entirely on external support.  Christian believers have the risen Christ within them, by his Holy Spirit.  That Spirit within us is a strength, a comfort, a spring of living water, a deep assurance and a peace which 'surpasses all understanding.'
Perhaps you don't have this? Perhaps Christ is still on the outside? You need to ask him to come in, pray something like this: "Dear Heavenly Father, I know I'm a sinner. I'm sorry for my sins. I ask that You forgive me, and I believe that Jesus Christ is Your Son, and I want to invite Him to come into my heart and trust Him with my life. I'm willing to trust Him as my Saviour and follow Him as my Lord forever, and I pray this in Jesus' Name.'"
People are afraid. People are anxious. People are just outright scared, and this is an opportunity for the church to pray for revival and pray that God would use each and every one of us to touch the lives of an unbelieving world so that they would put their faith and trust in Jesus Christ, that they could come to know that their sins are forgiven, that they have that hope of heaven, and that hope of heaven is Jesus Christ who took our sins and died on a cross, who was buried for our sins, who on the third day God raised to life. Jesus Christ is alive, and He's coming back. What an opportunity to share this message with the world …
Your friend and pastor,
The ministry of St Mary's continues
The Vicar is working as hard as ever: phone calls, e-mails, daily worship on Facebook; funerals, co-ordinating volunteers, Standing Committee matters by skype and e-mail; preparing Sunday worship, as well as the Deanery work. Emma our Administrator is working from home answering the phone, e-mails, producing YouTube material for worship and children's ministry and working on the new web site; thanks also to Justin for keeping the '11.30 Later Morning Service' going with videos of songs each week.  Peter Bradley's ministry in technical support is coming into its own now. We have a team of 23 retired clergy, house group leaders, Pastoral Assistants and others who are phoning people every today; and our grateful thanks to our team of volunteers who are collecting prescriptions, shopping, and delivering meals.  Many thanks to Heather, Claire and others who are posting stuff on Facebook for St Mary's Lambs.. Thank you to everyone who is working to keep the ministry of St Mary's going.
Pastoral support by phone
As mentioned, all our congregation of 350 adults have now been assigned to one of the clergy or a Pastoral Assistant who will keep in touch by phone.  The Vicar keeps in touch with all of these, and is himself able to phone a few people every day.  So far he has phoned one third of the congregation and will continue to do this.  These calls are no hardship to us, so please don't feel you are 'taking up our time' (what else have we got to do!) The reports are that the congregation is generally in good heart. So far three of our members have had the coronavirus and all, thankfully, are coming through this, none required hospital.  Do let your pastoral contact, the Vicar or Parish Office know if anyone gets the virus and let us know if you have any prayer requests, either prayed for in private or shared for others to pray on this newsletter.
Keeping in Touch by E-mail.
We are able to keep in touch with most of you by E-mail and each week we hope to send out this publication 'St Mary's News.' There are, however, about 60 people who are not on E-mail.  All of them will be posted this issue and last week's, but we can't continue to do that because of cost and other current restrictions. We wonder if you know someone not on E-mail and would be prepared to print out a copy starting from next week and put it through their letter box.  Please let Emma or the Vicar know.
Practical help: do you need it, or can you volunteer?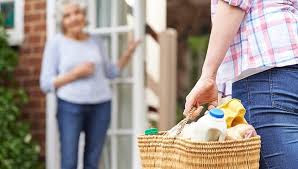 At St Mary's we have a team of volunteers who have kindly collected prescriptions and offered to phone people who are isolated.  However, the following groups are even better set up than we are, as volunteers have to be DBS checked etc, and these organisations have the structure to do this.

Portchester Community Association 01329 233833.
At the Hub in the shopping precinct are taking round cooked meals to elderly people who don't have anyone near who can help.Phone them the day before on 02392 210048 the day before.The meals come cooked and cost £3.00.
Because they are near Rowlands Pharmacy they are helping elderly people who are queuing up for long periods and have offered to deliver their prescriptions for them, but this is only for those already in the queue.

AFC Portchester Covid-19 Mutual Support Group. 01329 233833.
The aims of the group are to bring volunteers from the community together so they can offer people general assistance with things like shopping, dog walking, running errands and other requests for help.
The football club's Crest Finance Stadium home will also be acting as a collection point for donations, with food, hygiene products and pet food all currently needed – which will be re-distributed to those who need it in the community.
At this stage there are a number of ways in which you can support the work of the group and volunteer your help.
Join the Facebook page to keep up to date with the latest information – click on the following link:
https://www.facebook.com/groups/251999922470261/
If you have food or other items you wish to donate to the project these can be dropped off at the Crest Finance Stadium Monday to Friday between 10am and 11am.
The stadium address is: Wicor Recreation Ground, Cranleigh Road, Portchester, PO16 9DP.
To arrange dropping off items outside of the hours above, you can email: paul64k@hotmail.co.uk or text 07563 976287 or call the club on 01329 233833.

Acts of Kindness 077665 21314 / 07918859448
This is the group which Fareham Borough Council is working through.  They are here to help the over 70s, and those who have underlying medical conditions or are currently pregnant.
Deliver food and medication
Will call or skype those in social isolation
One Community 07702 802555.
Will arrange to collect prescriptions and food.
We really do need some fit and well volunteers to help delivering food and medicines for our most vulnerable people. We already have some but would like more as do all of our fellow voluntary sector support organisations. If you are a car driver we want to support those who use their cars to help their community.
If you are using your own car for voluntary purposes to transport medicines or groceries to support others who are impacted by Covid-19, your cover will not be affected. You do not need to contact your insurer to update your documents or extend your cover. This applies to all categories of NHS Volunteer Responders, including transporting patients, equipment, or other essential supplies.
Please be considerate …..
All of the above have reported instances of people with known young and healthy families who are local, contacting them to ask for help in delivering medicines etc. Please don't abuse the system, as the very willing volunteers often have to stand for hours in queues and put themselves at risk.  These life-lines should only be used for those who genuinely have no one else to help.
Daily Worship on Facebook
We are attempting to put a prayer, reflection, prayer requests and a hymn or song on Facebook each day.  Thank you to all those who have liked/loved or commented.  We know there are lots more of you who engage with the posting. Please don't be afraid to be known to be supportive, and more comments would be appreciated to know that you are out there. If you have any suggestions or would like to write or contribute prayers etc please e-mail the Vicar.
Our Facebook page of 30th March has links to several resources for daily worship.
On St Mary's Facebook and YouTube.
The Vicar now has a web cam and will try and post the weekly Eucharist from the Vicarage, as well as a sermon for the day. If you would like to prepare a Prayer of Intercession, he will be happy to read this for you.  We will include people who are ill and others who have asked for prayer. Please E-mail.
The link can be found here

Justin and Emma are preparing material for the children and for the 11.30am Later Morning Service here .

Other churches

There are links to other church services on our 

Facebook of 28th March

 with links to other services on Youtube/Facebook/ Radio and TV.
Message from the Dean of St Paul's Cathedral, London
We thought you might find it useful to read some insights which David Ison, the Dean of St Paul's Cathedral, has shared from a group which worked on a three-year project on trauma and tragedy in Christian congregations:
This crisis is traumatic for communities, the nation, the world. It's not a shock-event like a fire or a terrorist attack, but a slow-building crisis – a crisis that shatters our assumptions that the world is generally safe and reliable, and that all that we've worked for in businesses, churches and communities will be fruitful. The loss of security and hope, the breaking down of supportive connections between people, and the fear that this crisis is overwhelming – all of these are characteristics of trauma.
Some of the wisdom that has been gained about trauma recently can help:
a) Our whole selves are affected – we may feel all sorts of strange symptoms, because our body is reacting to the fact that we don't feel safe. Concentration and sleep may be difficult. We feel distracted, and find it hard to cope. Emotions will be all over the place in surprising ways. Knowing that in traumatic situations it's normal to be up, down, energetic, exhausted, afraid – will help us to cope with it.
b) People react very differently, depending on different backgrounds and experiences, including past traumas. We need to be kind and understanding to others, and also to ourselves.
c) We respond best when we have clear, reliable information; when we have something practical that we can do; and when we can be connected to others, if not in person then by phone or through social media, T V and radio.
d) We make sense of things by making them part of our story – the story of our own life, and the stories of our communities and of our world. But this takes time. While the trauma is unfolding and we continue to experience the pain of losing what we once had, it's very hard to make sense of it. We need to remember that holding on together is how we'll eventually be able to come through and look back on what we've experienced.
Communities (and individuals) typically respond to disaster by first going through a 'heroic phase', full of energy and self-sacrifice. This eventually burns itself out, and is followed by a 'disillusionment phase', which may contain much mutual blame and suspicion. Only as the disillusionment phase loses its force can realistic, hopeful rebuilding take place.
This is a very confusing and draining time, a time when ordinary healthy rhythms are lost. We may be feeling in our minds and bodies the impact of trauma – feeling low and anxious one day when it's hard to get your brain in gear, energetic the next day, and all at a time when we need to be able to change and adapt to unusual events. So taking care of ourselves and our own well-being is vital. That includes the basics of good rest, eating, and exercise. It also includes as far as possible having people we trust whom we can share with, and being in touch with them.
Recent Funerals
(None connected to Coronavirus)
23
rd
 March     Emelia Lopez (age 3) Castle Street, Portchester
27
th
 March      Ronald John Ray (age 90) Castle Street, Portchester
27
th
 March      Peter Strong (age 71) West Street, Portchester
Pray for their families, particularly Emelia's parents, Daniel and Caroline.
Thanksgiving services to be held later in the year.
Death of Sylvia Ferne
We are sad to announce the death of Sylvia (wife of Russell) who died on Wednesday 1st April. Sylvia's death was not as far as we know related to the Coronavirus.  She had been ill for some time and died in a nursing home. She was a regular attender until recently and sang in the choir for some time. Our thoughts and prayers are with Russell and all the family at this time.
Prayer Requests
Claire Martin asks for prayer for her son HENRY in Southampton Hospital.
Terry Bridges for her brother's father-in-law, DAVID in hospital with coronavirus.
Debbie Purdy asks for prayer for her father, and his wife Mary going into QA Hospital.
MAGGIE HONEY currently  getting treatment for cancer.
INGRID DAVIES also getting treatment for cancer
RUSSELL FERNE on the death of his wife SYLVIA
ONGOING PRAYER REQUESTS
DOCTORS: Damian Mayo, Jenny Mayo, Charlotte Cox
NURSES: Caroline Frost, Penny Hensman, Ruth Tunski, Jenny Olding, Stephanie Smith
POLICE: Tom Wrenn, Scott Brodrick (RN)
SAINSBURY'S DELIVERY: Chris Jones
NURSING HOMES: Jemma Frizelle
FUNERAL DIRECTORS: Ian Parker.
If you have a special prayer request we will put this on the page and ask for your prayers. Contact the Vicar on irev@ymail.com or phone 02392 375422.
For our service changes and response to the Coronavirus outbreak, please click here.
For updates from the Church of England please visit their site here.
For update from the NHS please visit their site here.